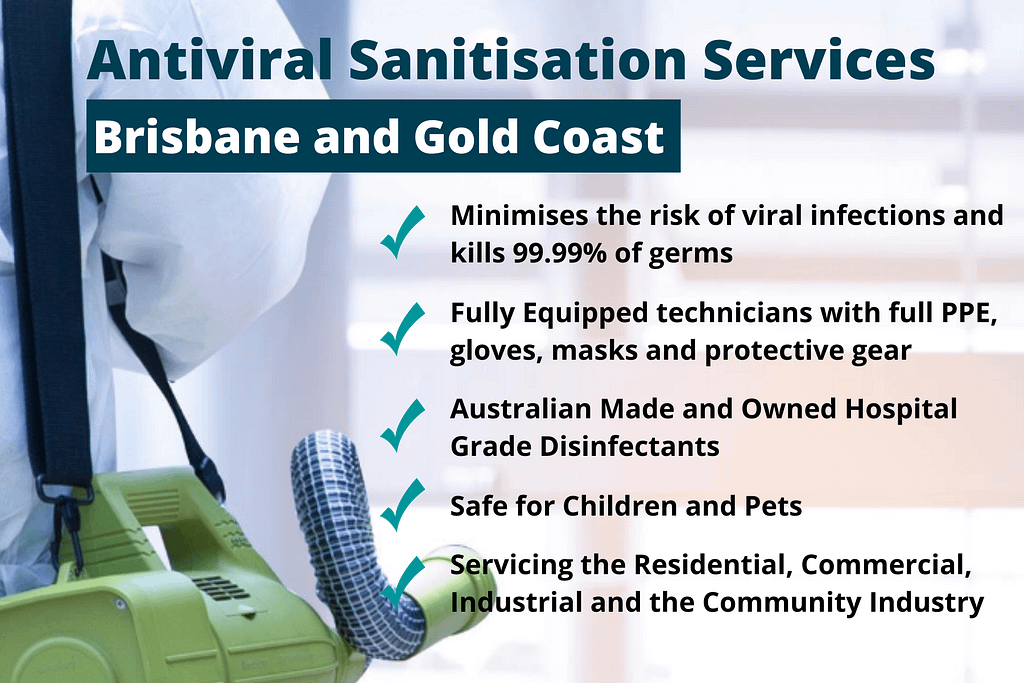 Please fill out the form and we will get back to you shortly.
Phone: 1300 800 970
Email: office@germ-busters.com.au
Address: Shailer Park, Queensland, Australia 4128
Operation Hours: 24 Hours Monday – Sunday
Office Hours: 8AM – 5PM Monday to Saturday
Why Choose Germbusters Disinfection Services - Brisbane and Gold Coast
People and Communication
Quality Service Every Time
Our Product and System
Our Disinfectant
Locally Owned & Operated
Germbusters only employ honest, hardworking, reliable Disinfection technicians and cleaners. Like with every successful business relationship, communication is the biggest factor. So from listening to your needs, creating your sanitizing schedule to directing our team, communication is the key. It is our mission to meeting and exceeding your expectation for Home Sanitising Services, Commercial Disinfection, and Office Disinfection Services.
Germbusters Professional Disinfection technician and Cleaners are regularly trained in our well designed Systems. An excellent disinfection cleaning company goes above and beyond in delivering the best quality home sanitizing services and Commercial sanitizing Services. With Germbusters Customer satisfaction is our priority. We do not cut corners and we turn up every single time.
We take the safety of our clients and staff very seriously so we created a systematic approach in our disinfection and cleaning processes. It is very important that we follow these guidelines to avoid hygiene risk and cross-contamination and the integrity of the sanitizing process is maintained. We also ensure appropriate cleaning equipment is used correctly for your home and business. With our Disinfectant product, we only use Premium Australian Owned and Made Hospital Grade Disinfectant. 
BENEFITS AND COMPARISON USING GERMBUSTERS' DISINFECTANT
HELP PROTECT YOUR HOME, OFFICE, COMMUNITY,
WORKPLACE AND FACILITIES FOR UPTO 28 DAYS
Coronavirus SARS-Cov-2
Candida Albicans
Listeria monocytogenes
Acinetobacter 
Escherichia Coli (E Coli)
Herpes Simplex Virus
Enterococcus Faecalis (VRE)
Hepatitis B Group Virus
Disinfectants used can kill a long list of Bacteria, Viruses, Fungi, Algae, Mould, Yeast, Spores, Parasites (Listed here are just a few of them)
Influenza Virus
Klebsiella Pneumoniae (CPE/CRE)
Salmonella Choleraesuis
Proteus Vulgaris
Staphylococcus Aureus (MRSA or Golden Staph)
Pseudomonas Aeruginosa
Our Mission:
We strive hard to offer you quality and thorough deep cleaning and disinfection fogging services to protect yourself and your staff against viruses, diseases, and other germs. Our Australian made and Owned hospital-grade disinfectant kills 99.99% of these nasties which includes the Coronavirus (SARS-COV-2). We offer sanitizing service to many industries in Brisbane and Gold Coast and all areas in between and customize each and every job ensuring customer satisfaction and safety for all. We offer daily, weekly, monthly, quarterly, one-off service, or just whenever your place requires disinfection. Nothing is too big or small for the GermBusters Infection Control team. We will be there every time and on time! Prevention is better than cure. So call us today for Virus Protection and Full Disinfection Service! Contact us at 1300 800 970.
*Disclaimer: We practice the highest quality commercial cleaning practices as outlined by the Australian Department of Health. It is important to note that we do not claim to be able to completely safeguard your workplace or working environments from COVID19. GermBusters-SEQ uses a range of hospital grade disinfectants designed to kill a broad range of germs, bacteria and viruses including the SARS type, of which COVID-19 is a part of. In accordance with  manufacturers testing, products used may last up to 28 days in effectiveness.
Contact us for further information.